October 2018
| Mon | Tue | Wed | Thu | Fri | Sat | Sun |
| --- | --- | --- | --- | --- | --- | --- |
| 1 | 2 | 3 | 4 | 5 | 6 | 7 |
| 8 | 9 | 10 | 11 | 12 | 13 | 14 |
| 15 | 16 | 17 | 18 | 19 | 20 | 21 |
| 22 | 23 | 24 | 25 | 26 | 27 | 28 |
| 29 | 30 | 31 | | | | |
Calendar

artis dadakan
Mon Oct 18, 2010 11:33 pm by zhang xin yu
https://www.facebook.com/l.php?u=http%3A%2F%2Fwww.wartakota.co.id%2Fdetil%2Fberita%2F31422%2FBanjir-Rendam-Ratusan-Rumah-Warga&h=52526
liputan banjir nasio oleh warta kota
Comments: 4
Janin 17 Pekan Ternyata Sudah Bisa Tersenyum
Tue Oct 12, 2010 1:24 pm by ♥koplak♥
REPUBLIKA.CO.ID,LONDON--Senyum berseri-seri begitu jelas terlihat. Tampak, dia seperti sedang merasakan kegembiraan. Itulah ekspresi yang terlihat dari dirinya.
Sangat menakjubkan. Mungkin itu kata-kata yang tepat untuk mengungkapkan perasaan setelah melihat sosok tersebut. Senyum itu bukan mengembang dari sosok seorang anak, bayi, apalagi orang dewasa. Senyum itu terlihat dari wajah janin yang …
Comments: 1
Social bookmarking










Bookmark and share the address of Nasio Forum on your social bookmarking website

Bookmark and share the address of Nasio Forum on your social bookmarking website

Jakarta (ANTARA News) - Sebanyak 57 Badan Usaha Milik Negara (BUMN) menyatakan siap mendukung atlit Indonesia meraih juara umum pada SEA Games 2011, melalui "Program Indonesia Emas 2011".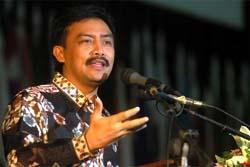 Komitmen dan dukungan perusahaan milik negara ditandai dengan penandatangan nota kesepahaman (MoU) dengan 27 induk cabang olah raga, disaksikan Menteri BUMN Mustafa Abubakar, dan Menpora Andi Mallarangeng, di Kantor Kementerian BUMN, Jakarta.
Dukungan BUMN untuk pembinaan cabang-cabang olahraga sesuai dengan instruksi Presiden Republik Indonesia, agar melalui "Program Indonesia Emas 2011" Indonesia dapat menjadi juara umum SEA GAMES 2011 dengan perolehan sekitar 150 Medali Emas termasuk medali emas pada cabang Sepak Bola.
Sejumlah BUMN yang menjadi penanggungjawab pembinaan cabang olah raga yaitu, PT Telkom (Balap Sepeda, Sepakbola), Bank Mandiri (Sepakbola), Bank BRI (Karate), Bulog (Sepak Takraw), Garuda Indonesia (Tennis Lapangan).
Selanjutnya, Pertamina (bulu tangkis), PLN (Catur), Semen Gresik (Bulu Tangkis), Jamsostek (senam), PT Kereta Api (angkat besi), Pupuk Sriwijaya (tinju).
PTPN I-XIV dan PT RNI (futsal), PT Perusahaan Gas Negara (bowling), Jasa Marga (renang), Krakatau Steel (basket).
"BUMN akan memberikan bantuan pembinaan atlit dalam bentuk sponsorship yang saling menguntungkan berlandaskan prinsip korporasi dan profesionalisme, ujar Menteri Mustafa.
Sedangkan pihak Induk Organisasi Olahraga akan menggunakan simbol perusahaan BUMN dalam atribut atlit yang dibina.
"Komitmen ini bukti nyata BUMN dalam memajukan bangsa. Ini menjadi bagian dari sinergi BUMN dengan mitra strategis," tegasnya.
Sementara itu, Menteri Andi Mallarangeng menyatakan, menyambut baik BUMN turut memberi sumbangsih guna meningkatkan prestasi para olahragawan.
"Saya berharap, BUMN menjadi contoh bagi perusahaan swasta untuk terlibat dalam memajukan olahraga nasional," ujar Andi.
Namun kunci terpenting dari pelaksanaan kerjasama ini adalah implementasi, bukan sekedar pada tatanan konsep semata.
Andi menambahkan, setelah penandatangan tersebut akan dilanjutkan dengan memonitor setiap perkembangan atlit dan induk organisasi cabang olahraga.
Code:

http://www.antaranews.com/berita/1286858500/57-bumn-mendukung-indonesia-emas-2011
_________________
Moderator





Posts

: 125


Points

: 254


Reputation

: 22


Join date

: 2010-10-10


Age

: 30


Location

: C62





Similar topics
---
Permissions in this forum:
You
cannot
reply to topics in this forum